The bridge has been designed by Swansea artist Marc Rees in collaboration with architect Acme (link opens in new tab).
Other businesses involved include development manager RivingtonHark and principal contractor Buckingham Group Contracting, which has also worked on the structural design.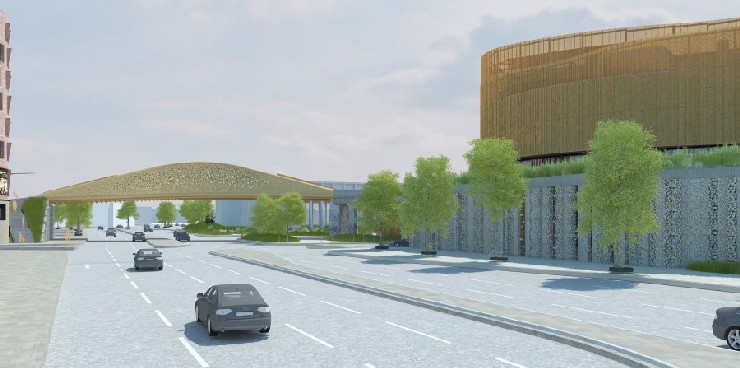 The panels are arriving in four loads on 34m-long, 6m-wide trucks. They will be fitted together over the coming months along with others that will follow. Around eight smaller loads - on conventional-sized trucks - will follow over the next few two weeks. These will carry the panels that will form the bridge's sides and apex.
The pedestrian and cycle bridge is due to be installed in one piece over the main Oystermouth Road in early 2021 and is scheduled to open in the second half of the year.
It will range in width from 12m to 6m, will stand 6m off the road and will be 6m high and 49m long. It will be lit inside by colour-changing LED lights.
Origami-style steel cutouts feature swan shapes with an abstract edge. The are designed to let in light and create patterns in the steel itself and on the floor.
The swan shapes have already been cut out by the steel fabricator in Yorkshire and the panels come with many coats of paint already applied. Work on site will include the welding together of panels and a final covering of gold-coloured paint.
Artist Marc Rees said: "The delivery of the steel panels shows that this project is very real. It's an exciting project to work on and I look forward to seeing it take shape on site over the coming months."
Friedrich Ludewig, director at Acme, said: "We are hugely excited that the bridge's first steel panels are finally arriving on site. The bridge over Oystermouth Road will be a key link to Swansea Arena and the coastal park, strengthening the link between the city centre and the beach, and creating an iconic gateway for pedestrians on the bridge and for motorists passing below.
"The steel side panels arriving on site in future days and weeks have been laser cut with a customized swan pattern that will come to life at night as a coloured glowing lantern."
Tim Wood, project director for Swansea Central Phase One main contractor Buckingham Group Contracting, said: "Our aim now is to ensure that the finished bridge delivers the architectural, aesthetic qualities that are required and that it creates a stunning visual gateway to Swansea."