The historic bridge has been closed to vehicles since summer 2020 because of cracking.
The four cast-iron pedestals - one on each corner of the 135-year-old bridge – needed reinforcing to address micro-fractures. Hammersmith & Fulham Council's team of engineers planned, trialled and designed the stabilisation programme off-site, using a replica pedestal. They were able to maintain the pedestals' exterior appearance by pouring concrete inside their hollow centres, rather than altering the look of the Grade II* listed bridge.
Engineers used a special low-carbon material to keep the concrete's curing heat low, as the cast-iron pedestals would have been vulnerable to stresses caused by the high temperature reached as normal concrete sets.
In addition, the concrete had to flow strongly enough to get into the pedestals' nooks and crannies. 'Super-plasticisers' were added to ensure it flowed well, and small steel fibres were added as reinforcement.
A self-compacting mix was used as mechanical compaction would have risked damage to the fragile pedestals.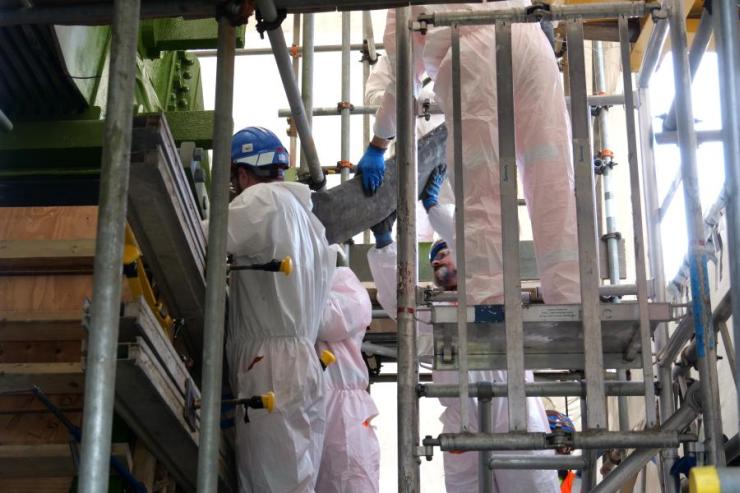 The concrete mix was tested on site to ensure the correct fibre content and 'flowability' before 40 tonnes of it were poured into the pedestals to stabilise them for further works.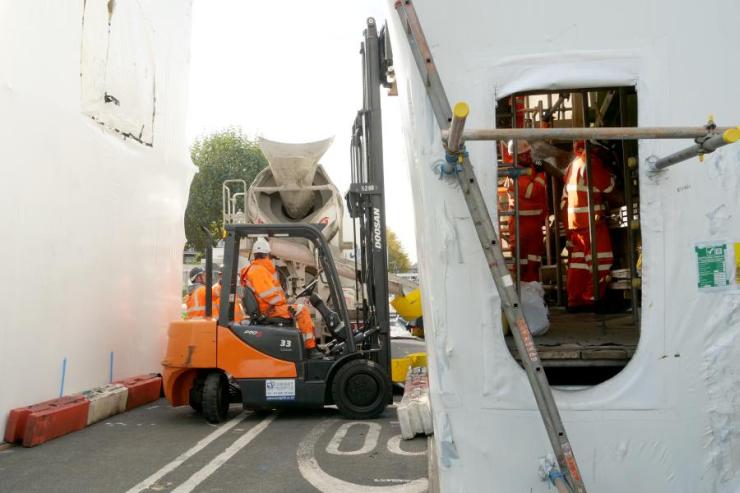 The next step is to inject grout into the top of each pedestal and attach temporary steel plates to provide extra support.
Steel reinforcing elements will then be mounted to the points, or saddles, where the bridge's chains are attached. The steel shipment was delayed by the war in Ukraine but has now arrived at the fabricator in north-east England.
Finally, the team will jack the saddles up and replace the seized bearings.
Last month, Hammersmith & Fulham Council agreed further plans for reopening the bridge to vehicles. Planning permission is being sought for a double-decker temporary truss design proposed by Foster & Partners and Cowi (link opens in new tab).
If approved, it would see a temporary double-decker crossing placed within the existing structure and supported by the bridge's foundations. This would enable the bridge to reopen to motorists earlier than the existing Transport for London plan, said the council.
Stabilisation works on the bridge are now due to be finished by the end of February, following the delay acquiring steel from Ukraine . However, the delay has had no impact on the programme for the full restoration as works continue to run in tandem, said the council.
In a separate procurement strategy report, agreed last month, the council set out its objective to appoint a private sector contractor to design, renovate, finance and maintain the bridge.