The estimated cost of replacing the existing Portal Bridge has been put at US$1.5 billion. Portal North Bridge is an essential early project in the Gateway Program, a major infrastructure inititative that involves building a new trans-Hudson rail network. The programme will also add a second rail tunnel between New Jersey and Midtown Manhattan.
The 106-year-old Portal Bridge, which spans the Hackensack River, handles 450 NJ Transit and Amtrak trains and more than 200,000 passengers each day. The existing bridge is a major bottleneck and source of delays for rail services as the ageing mechanical components sometimes malfunction while opening and closing for maritime traffic. The two-track replacement bridge, known as Portal North Bridge, is designed as a high-level, fixed-span crossing, eliminating the movable components and risk of malfunction.
NJ Transit and Amtrak have already completed final design and the federal environmental review to replace the swing-span Portal Bridge with the new crossing.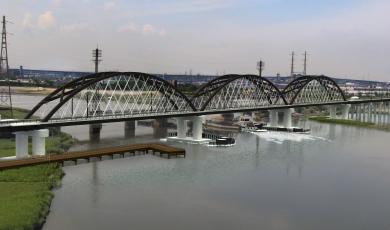 A second, two-track Portal South Bridge span is also proposed as part of the Gateway Program and when complete will double train capacity along the section of the corridor.