The proposals for the Queens Ribbon have been developed by New York University Tandon School of Engineering, TY Lin International and Sam Schwartz Engineering.
The Queens Ribbon would be the first new bridge to Manhattan's central business district in over a century.
The bridge consists of two back-to-back suspension bridges, each with a span of 350m.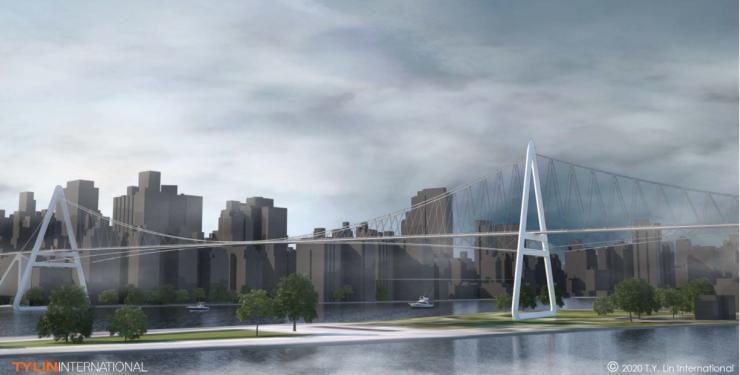 The deck is very slender with a total width (including roadway and parapets) of 8.2m and a depth of only about 610mm. The deck has a vertical clearance of 38m over the navigation channels of the East River.
The delta shaped towers are about 90m tall and 60m wide. The triangular form of the towers is functional yet futuristic, said the consortium, lending a strong presence to an otherwise transparent structure.
The design incorporates observation belvederes near the towers to provide panoramic views and elevator access to Roosevelt Island and the Cornell Technion campus.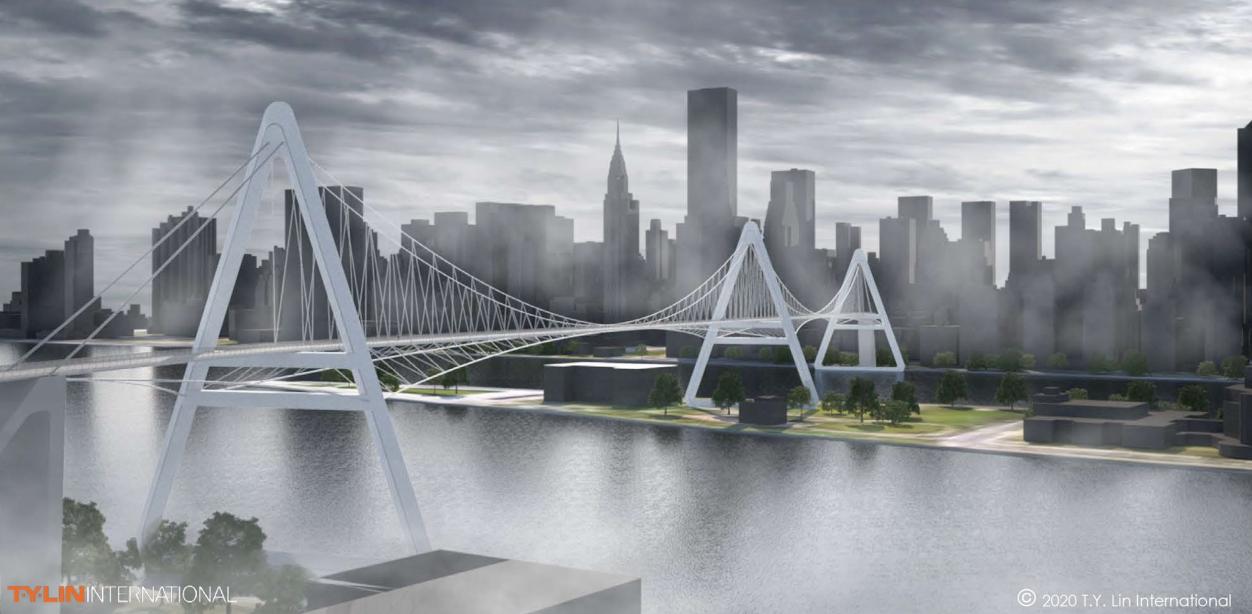 The consortium was formed in the wake of Covid-19 to develop transportation improvements that would not only be of value during 'normal' times, but would also provide a lifeline in future crises.
Even before the coronavirus outbreak, cycling over the East River bridges soared by 132% over the last decade, said the team, yet cyclists and pedestrians have been squeezed into tight spaces. Demand is expected to increase further as New York City (NTC) is proceeding with plans to add hundreds of kilometres of protected bike lanes on its streets.
"The Queens Ribbon will offer tremendous value in so many ways – from an environmental perspective, an aesthetic perspective, and a health perspective," said Dr Michael Horodniceanu, professor and chair of New York University (NYU) Tandon's Institute of Design & Construction (IDC) Innovation Hub. "The IDC Innovation Hub is proud to have participated in the development of the bridge thus far, and we look forward to continuing our association with TY Lin International and Sam Schwartz Engineering in seeing this and future 'sister' bridges through to fruition."
Two other bridges, from Brooklyn and New Jersey, are in the early planning stages.
The preliminary cost estimate of the Queens Ribbon bridge is US$100 million, which the consortium said would be a small investment to make when compared to the savings that would be derived from reduced pollution and traffic.
"The Queens Ribbon will become an essential element of the region's transportation network expanding opportunities for safe and accessible travel to Manhattan for bicyclists and pedestrians," said Gerard Soffian, an adjunct professor at NYU Tandon and former director of the NYC Department of Transportation's bicycle programme.
"The urban travel mode of the future won't be flying cars, or robo-cars or even cars. It will be shoes and bikes," said Sam Schwartz, founder and CEO of Sam Schwartz Engineering. "Cities can best thrive on these low impact, non-polluting, equitable, and healthy forms of transportation."
"The Queens Ribbon will be more than a connection, it will also be a destination," said Dr Sajid Abbas, a senior vice president at TY Lin International. "TY Lin International has developed an innovative and cost-effective bridge concept — a pedestrian bridge of exceptional lightness and beauty that is floating in the air and yet has an immense presence."