The programme is being carried out by a partnership of the government of Rwanda and international non-governmental organisation Bridges to Prosperity (B2P).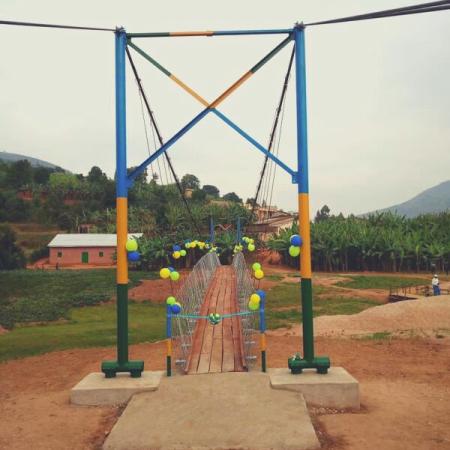 The 42m-long Gashyushya Suspension Bridge in the Muhanga District of the Southern Province serves an estimated 2,200 residents of the surrounding communities. The residents of communities surrounding the bridge are primarily subsistence farmers who must cross the Makurungwe River to access the marketplace to sell or trade their crops. They also must cross the river to access schools, health services, and employment. When the Makurungwe River floods, it becomes extremely dangerous and can stay flooded for more than three days at a time.
During the inauguration, one community member recalled seeing a child being swept away when trying to cross the river, and that seven others have shared the same fate in the past three years.
"We could not be more excited to provide safe access to these communities and launch our scale-up programme," said B2P Rwanda programme director Hannis Whittam. "In five years' time one in 12 people in Rwanda will cross a B2P bridge on a regular basis."
Due to the urgency and priority of the site, the initial decking is local timber. B2P will be re-decking in galvanised steel early in the new year.
The programme to build 355 bridges serving over 1.1 million Rwandese was launched a few months ago and coincided with the inauguration of B2P's 300th bridge globally.