BrandSafway's Major Projects Group (MPG) has been selected by Archer Western-de Moya JV to develop a custom-engineered arch-finishing platform (AFP). The scaffolding system will give workers access to build Miami's cable-stayed bridge.
The new signature bridge will be supported by six arches of differing heights.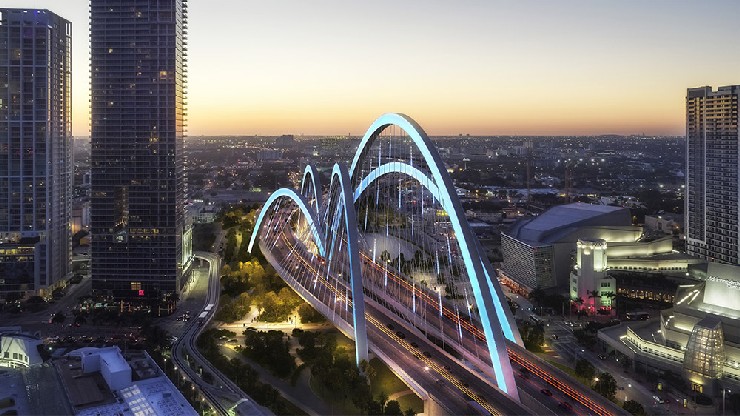 The self-levelling scaffolding system has been designed and fabricated through collaboration between BrandSafway's MPG, Hydro Mobile and Winsafe. It consists of an electrically-operated, travelling carrier and suspended swing stages. This will allow workers to access all sides of the six arches, which range from 54m to 100m in height, and 111m to 202m in length.
The U-shaped, self-inclined platform will travel along the top of the arches, providing the builders with safe access. Suspended stages will provide access around the entire arch, while the under-bridge platform will be able to pivot as it crosses the bridge's cables.
The 'Miami Fountain of Light' multi-arch design will have full LED lighting throughout the structure and parks, trails and public spaces will be built on the thirty acres below the bridge.
"We are pleased to be part of this iconic Miami project," said Alex Di Domenico, managing director, BrandSafway, MPG. "In order to meet the demands of this architecturally challenging job, our engineering team had to imagine a way to provide inside and outside access to the six intricate 'Fountain of Lights' arches."
Leonard Gardino, project manager, Archer Western-de Moya JV, said: "Safety is our most important priority, and Archer Western-de Moya JV looks forward to working with BrandSafway to provide safe access for the men and women who will build these iconic arches."
The new AFP is scheduled for delivery in the second quarter of 2022. The bridge is anticipated to be complete in Q4 2024.