Delaware River Joint Toll Bridge Commission has approved the appointment of Trumbull Corporation, for an amount not to exceed US$396 million. A total of 58 prospective contractors and subcontractors had purchased sets of the bid documents, but Trumbull was the only one to submit a tender to construct the bridge.
The current four-lane Scudder Falls Bridge will be replaced with a dual-span structure carrying six lanes of through traffic (three in each direction), and three auxiliary lanes (two northbound, one southbound) for traffic merging on and off the bridge. The new bridge has been designed by Michael Baker Jr.
The commission has also approved a US$475 million bond authorisation to finance the project.
"With today's approval of a construction contract and bond financing, we are on the threshold of breaking ground to replace the existing 'functionally obsolete' bridge and its congestion-prone approach roadways and interchanges," said Joseph Resta, executive director of the Commission.
The current 57-year-old bridge is safe for current use but is nearing the end of its useful life and is classified on the National Bridge Inventory list as functionally obsolete due to concerns including its capacity and safety deficiencies. The existing bridge's lack of shoulders cause lane closures when vehicles are stranded or when routine maintenance operations are conducted, which can cause significant travel delays. In addition, the geometry of the interchanges creates difficult and unsafe traffic movements and mergers for commuter traffic.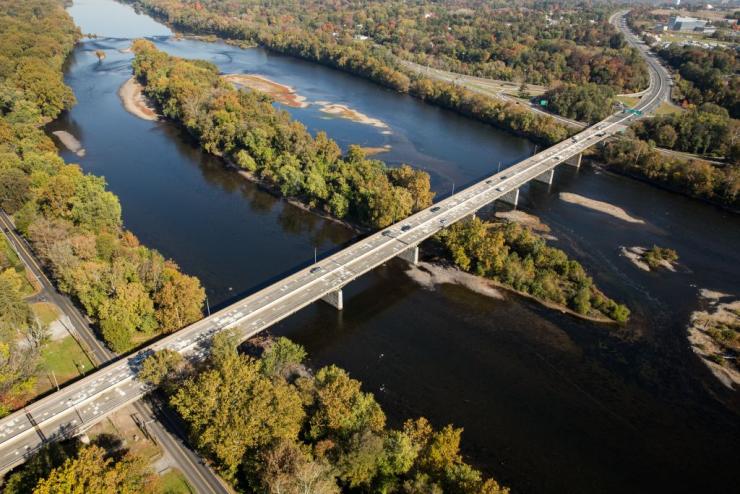 A precise start date for construction has not yet been set, but the contractor will probably be in a position to start survey work in March with construction activities possibly beginning in April. It should take about 4.5 years to complete the project, which is expected to be built in three major stages.