President Cyril Ramaphosa has visited the Msikaba Bridge site, a key project for the South African National Roads Agency (Sanral).
Thousands of jobs are set to be created during the lifespan of the N2 Wild Coast road project. Ramaphosa said that work on the N2 Wild Coast road will lead to the creation of 8,000 full-time jobs and between 21,000 and 28,000 indirect jobs. Already 62% of the workforce at Msikaba Bridge is made up of local people. "Both skilled and semi-skilled people have already been employed on this project," he said. "Once the road is completed, ongoing maintenance work is anticipated to create another 900 direct, full-time jobs and around 19,000 indirect jobs."
Ramaphosa attended an event on the banks of the Msikaba River. The US$110 million Msikaba Bridge (below) is one of two 'mega bridges' that form part of the N2 Wild Coast Road project. The other is at Mtentu, about 64km away.

Msikaba Bridge will have a main span of 580m supported from a pair of 127m-tall pylons. The deck will be 194m metres above the valley floor, making it the third highest bridge in Africa, eclipsed only by the existing Bloukrans Bridge with a height of 216m and the Mtentu Bridge (below) which, when completed, will be 223m high.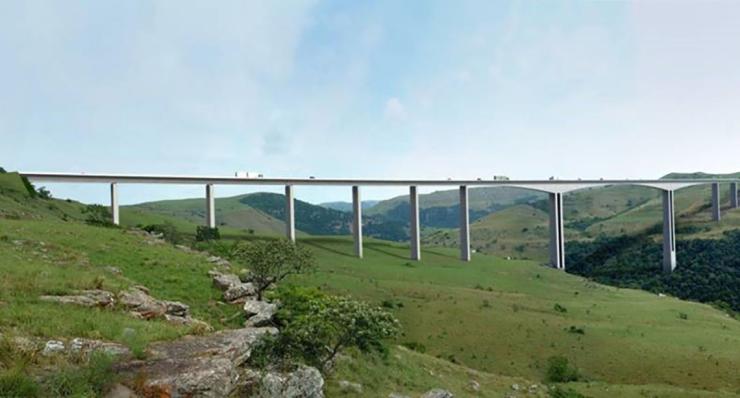 The 410km N2 Wild Coast road project will link four provinces and improve connectivity between South Africa and Mozambique, Swaziland and Lesotho. The construction of the Msikaba bridge is expected to be completed by 2023.
Ramaphosa acknowledged that the N2 Wild Coast Project has not got on without some resistance from communities. A new tender for Mtentu Bridge was launched in September 2020 (link opens in new tab). He said that, although communities have a "rightful expectation" to benefit from projects in their area, they should make use of the channels available to lodge any objections that they have. "Using intimidation or violence to secure a share of benefits from the project is counterproductive, and it has far-reaching impacts, he said. "When there are stoppages, it doesn't just cost the contractors, it costs the entire country."
He said that the purpose of the bridges is to allow people, goods and services to reach communities. "We all lose when projects are forced to stop or even have to shut down," he said. "I call on all our communities... to support not just this project but all our projects in the Eastern Cape. We want to create jobs here and turn the economic fortunes of the province around.
"What [we have to do] now is to proceed with the completion, and do all we can to prevent further delays or disruptions. Working together with communities, I am confident this can and will be achieved."