Balfour Beatty Living Places and green infrastructure specialist Biotecture are delivering the system on behalf of Southampton City Council.
Hydroponic living walls are vertical installations containing living plants and foliage that grow without the need for soil. They can help remove air pollutants as well as hazardous particulate matter.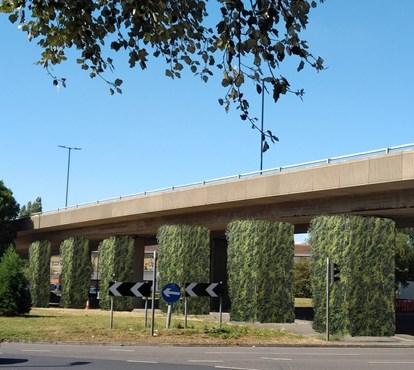 The system will be fitted at the newly reconstructed Millbrook Roundabout, which Balfour Beatty Living Places completed ahead of schedule earlier this year. The company will now install the foundations and 6m-high steel frame, while Biotecture will design and position the hydroponic living wall.
Balfour Beatty Living Places managing director Steve Helliwell said: "We are incredibly proud to be working with Southampton City Council and Biotecture on this flagship project – a first in the UK. This is a project which has the potential to transform the way we sustainably deliver highways schemes across the industry."
Richard Sabin, managing director of Biotecture, said: "Yet to be seen on the UK road network, the Millbrook green columns are evocative of the Via Verde highway pillars in Mexico City, and they'll help with air pollution reduction."
Image: an artist's impression of the living wall at Millbrook Roundabout