The Windsor-Detroit Bridge Authority (WDBA) has named the three teams that will be invited to submit proposals for the Gordie Howe International Bridge project linking the USA and Canada.
Legacy Link Partners, Bridging North America and CanAm Gateway Partners achieved the highest scores among the six teams vying to win the public-private partnership contract. The teams include major international contractors and designers - see list below.
The new Gordie Howe International Bridge will link Windsor in Ontario with Detroit in Michigan. Conceptual designs have been produced for both cable-stayed and suspension alternatives.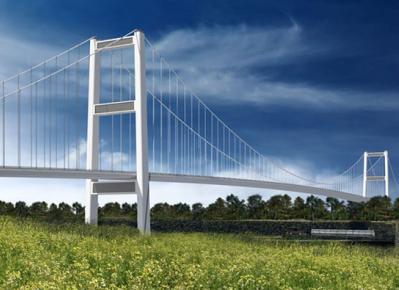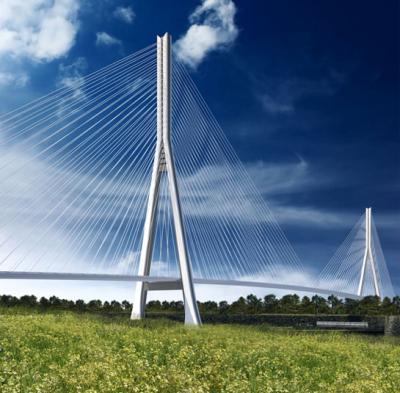 "With the short-listed respondents named, WDBA is pleased to have concluded the first stage in the public-private partnership procurement process," said WDBA president and CEO Michael Cautillo. "Our team of dedicated staff, partners and consultants have worked diligently to implement a fair and transparent process that recognises the size and scope of this unprecedented international project. We are in the process of finalising the request for proposals which will be issued to the short-listed respondents in the near term."
Legacy Link Partners
SNC Lavalin Capital
VINCI Concessions
John Laing Investments
HDR Corp
Leonhardt, Andra and Partners (if cable-stayed)
Aas-Jakobsen (if suspension)
Alfred Benesch & Company
Golder
American Bridge Canada
SNC Lavalin Constructor (Pacific)
Vinci Construction Grands Projets
Barton Malow
DRICCA (joint venture with Ajax Paving, Dan's Excavating, CA Hull Co, Toebe Construction, Amico Infrastructures)
SNC Lavalin Operations & Maintenance
Vinci Concessions
SNC Lavalin Security Consulting
Bridging North America
ACS Infrastructure Canada
Fluor Canada
Aecon Concessions, a division of Aecon Construction Group
RBC Dominion Securities
Aecom
Carlos Fernandez Casado/FHECOR Ingenieros Consultores
Moriyama and Teshima Architects
Smith-Miller + Hawkinson Architects
Dragados Canada
Aecon Infrastructure Management
Turner Construction Company
Aecon O&M, a division of Aecon Construction Group
DBI Services
URS Federal Services (an Aecom company)
CanAm Gateway Partners
Fengate Capital Management
BBGI CanHoldco
EllisDon Capital
Bechtel Development Company
Arup-Hatch Mott McDonald Design JV
Bergmann Associates
NORR
Bechtel Canada
EllisDon Civil
Traylor Bros
EllisDon Facilities Services
Egis Projects
Roy Jorgensen Associates