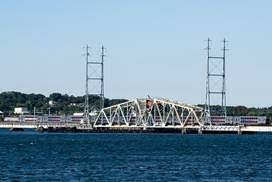 The existing 112-year-old swing bridge, known as River Draw, sustained significant damage during Superstorm Sandy in 2012 and required emergency repairs before being put back into use carrying NJ Transit rail services.
The directors of NJ Transit have approved the appointment of George Harms Construction to carry out initial construction for the project. The US$250 million contract includes the construction of the bridge approach spans and the piers for the new lift bridge and flanking spans.
The next portion of the project, to be awarded in the future, will include construction of the superstructure for the lift bridge and flanking spans. The final portion will be the demolition of the existing River Draw bridge following the new bridge entering into service.
NJ Transit president and CEO Kevin Corbett said: "The Raritan River Bridge replacement contract awarded today is a great step forward in ensuring our North Jersey Coast Line customers have robust and sustainable rail service that will better withstand the effects of extreme weather, while meeting the current and future transportation needs of our customers for so many decades to come.''