The collaboration between Australian company Sustainable Infrastructure Systems (SIS) and Dutch firm InfraCore Company is aimed at setting up a base in Adelaide's northern suburbs for the production of lightweight fibre-composite road and pedestrian bridges as well as jetties. The aim is to install the products throughout the Oceania region.
An exclusive manufacturing licence agreement between SIS and InfraCore was signed in Australia at the Netherlands Embassy today (18 March 2021).
At present, InfraCore builds its bridges and other structures in its factory in Rotterdam in the Netherlands and delivers them prefabricated to construction sites worldwide.
Under the agreement signed with SIS, FRP bridges destined for Oceania can now be manufactured locally. Simon de Jong, InfraCore's chief executive officer and founding partner, said the agreement with SIS "will have a huge impact on the future of bridge building in Australia and New Zealand"
More than 1,000 structures – from pedestrian walkways to traffic and harbour bridges – have been installed in the Netherlands, Belgium, Poland, England, France, Italy, Sweden, Norway, China and the US.
The system is based on a composite material of structural glass fibres in a thermoset resin matrix. The fibre-reinforced polymer (FRP) structures allow for spans of up to 36m with a 100-year design life.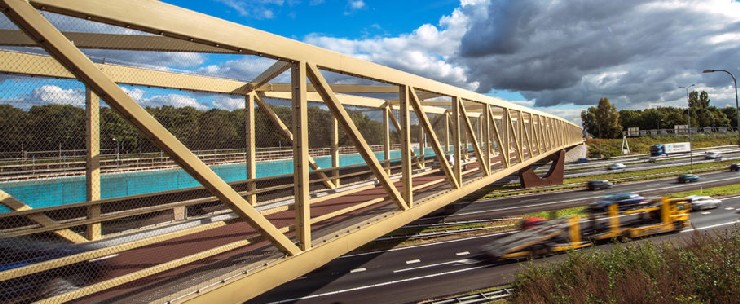 Former Transport Department general manager Luigi Rossi, who has guided some of South Australia's biggest infrastructure projects, joined SIS in 2019 and is managing the FRP programme for the company.
Rossi said that foam will initially be used for pre-forms in the manufacturing process but that within 18 months the company plans to change to recycled post-consumer waste plastic, and introduce bio-resins to provide environmental benefits. "This also is about reflecting the company's ethos; to take environmental sustainability to another level in infrastructure," he said.