Modjeski & Masters has entered the next phase of design for the span of the I Street Bridge, which is being built upstream of the existing bridge over the Sacramento River.
Modjeski & Masters - the engineer of record for the project's main span - is responsible for the structural, mechanical and electrical design of the new vertical lift bridge. The firm is working with Mark Thomas as the prime consultant and TY Lin as the architect. The City of Sacramento chose the design in February (link opens in new tab).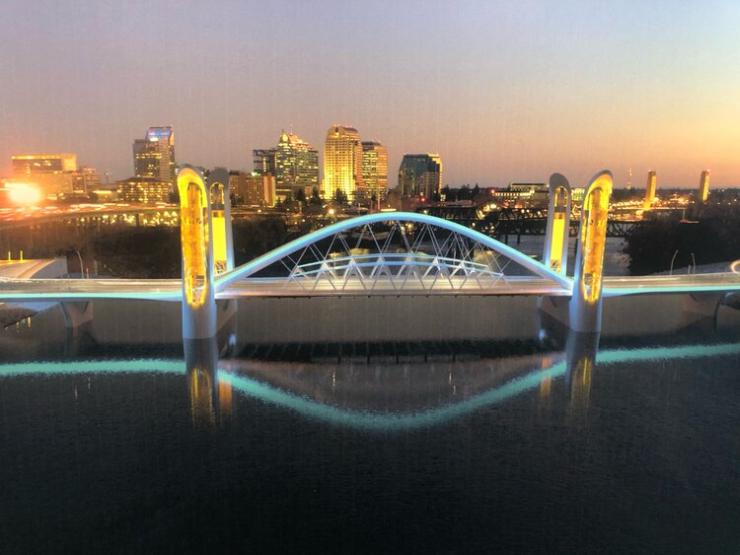 Modjeski & Masters will incorporate lightweight materials into the movable span design. The team's work has included decreasing the size of the bridge's towers, which required a significant reduction in the weight of the bridge by using an aluminium orthotropic deck. The design will also ensure the aluminium is properly insulated from the structural steel to avoid corrosion over time.
The new vertical lift network tied arch bridge – which is claimed the first of its kind in the world - will accommodate three highway traffic lanes, bicycle lanes and walkways as well as making provision for a future streetcar.
The bridge's operating machinery will be located within the pier in an arrangement that is not typical for vertical bridges, but is necessary to accommodate the project's architectural features.
"The I Street Bridge is a revolutionary project and serves as an example of what's to come in the future of movable bridges," said Kevin Johns, movable bridge business unit director at Modjeski & Masters. "The engineering and architectural elements offer a unique, modern experience and more accessible travel for the local community."