The 1,315t span will travel by barge to the bridge site, in preparation for being lifted into place.
A joint venture of White, Skanska and Koch is the design and build contractor for the US$244 million structure, which is being constructed under the direction of Massachusetts Department of Transportation (MassDOT).
The span is just under 100m long, about 24m wide and varies in height from 10m at each end to 13.25m at its centre point.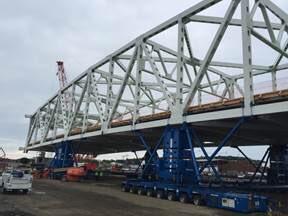 It is scheduled to be floated during high tide, with three tug boats used to tow it the 1.2km from the shipyard to site. Once the lift span is under and past the new bridge structure, the tugs will turn the barge around, pushing and towing it into position to begin the process of span installation. The aim is for the span to be secured into its bearings on the bridge superstructure between 7am and 12pm, tidal conditions permitting.
Once the new bridge is complete, it will carry Route 3A over the Fore River between Quincy and Weymouth.
It will be the third permanent crossing of the river in the area, following the original 1902 swing bridge and a 1936 bascule bridge – which became a well-known local landmark due to the "hum" created when vehicles passed over it. A "temporary" bridge came into use in 2002 as the 1936 bridge was found to be deteriorating.
The new bridge will feature a greater vertical clearance than the current temporary bridge and its machinery will allow full opening for taller passing ships in just two minutes and 30 seconds. It will take the same amount of time to return the bridge to its "open-to-traffic" position.
The bid amount for the new Fore River Bridge was US$244 million and the total construction cost is US$272 million, including contingencies.