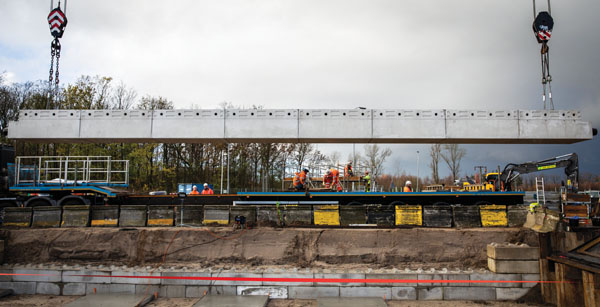 Once assembled, the 20m-long beams could be erected using traditional methods (image: Rijkswaterstaat)
Firms in the Netherlands developing the next generation of 'circular' bridge designs should consider whether the weight of bridge elements could be reduced, according to a review of Rijkswaterstaat's prototype. New ideas for reusable surfacing and parapets are among other improvements being invited from commercial partners.
The pilot scheme, run by the Dutch infrastructure agency Rijkswaterstaat in partnership with contractor Van Hattum & Blankevoort and precast specialist Consolis Spanbeton, saw development and construction of a prototype 'circular viaduct' which was erected for use on a construction site in Kampen in December 2018 (Bd&e Long Life Bridges supplement). After being in service for ten months, it was dismantled in September and will be rebuilt for public use this year at a new location in the Dutch city of Almere.
While this pilot scheme has proved that it is possible to build a circular bridge that results in only 1% of wasted material, Rijkswaterstaat is now inviting commercial partners to bid for funding either to progress improvements to this design, or develop new ideas to increase circularity in the infrastructure sector.
This call for proposals will be administered via the Strategic Business Innovation Research scheme, and was due to be launched officially during national circular economy week in the Netherlands, earlier this month (February).
The aim of the circular viaduct pilot project was to develop a bridge which was as close as possible to 100% reusable; significantly extending lifespan, reducing material usage and waste, and supporting sustainability. Estimates suggest the circular bridge elements have a lifespan of around 200 years – much longer than a traditional bridge as they can be dismantled and reused when they are no longer required in the original location. The idea came from contractor Van Hattum & Blankevoort and was taken on by RWS as for the circular working initiative.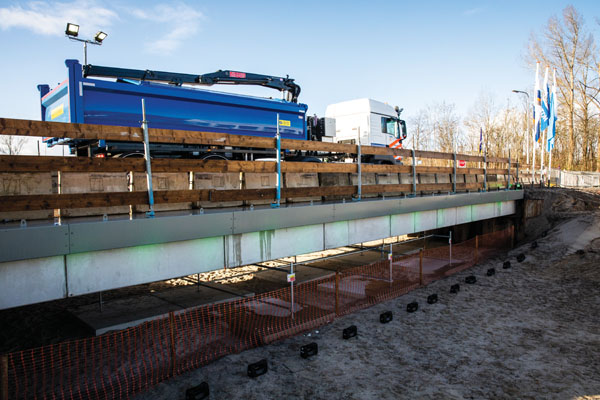 The prototype was erected on a construction site and put into use for ten months (image: Rijkswaterstaat)
The 20m-long bridge consists of 40 precast reinforced concrete elements assembled into five beams to create a 7.4m-wide deck. Each beam is created by eight elements which are connected using prestressing cables and have specially-designed shear keys at the joints. The only material that cannot be reused is the grout between the precast elements – less than 0.5% of the total. Grout was chosen over epoxy as it enabled the elements to be separated after use.
The trial location was a construction site near Kampen in Overijssel, around 80km north-east of Amsterdam; the bridge was used by construction traffic as part of a haul road until September, when the dismantling procedure took place.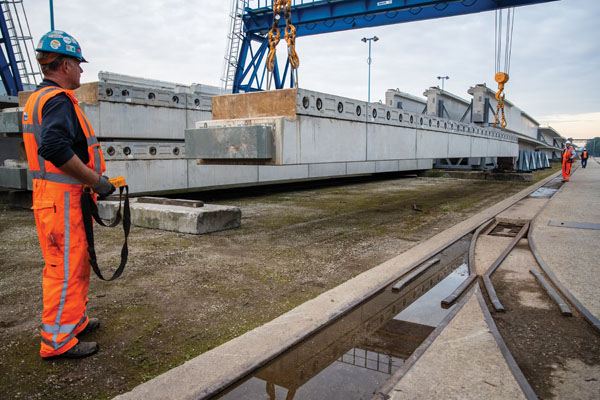 The prototype was fully dismantled in September to prove that it could be done (image: Rijkswaterstaat)
RWS technical manager Jan Willem Spruit says that although the prototype was entirely dismantled into its constituent parts, it would not usually be necessary to do so if, as in this case, it will be reused in the same arrangement. The intention was to demonstrate that the prototype could be fully dismantled without any damage to the main elements, to prove the case for circularity. "It was interesting to see that the grout came off quite easily," Spruit reveals. However it was also noted that the upper 100mm of the joints was not completely filled with grout – there were voids here and there. The joints remain the most difficult part of the design for this circular bridge prototype. "We still haven't been able to find an alternative to the grout, but we will continue to look for one," says Spruit.
In fact the dismantling procedure resulted in some damage to the shear keys, he reveals, but representing around 1% of the structure it was within the predicted tolerance. These keys will be repaired before the bridge is reassembled, he says. For future relocation, the bridge could simply be dismantled into its beam elements for transport and reassembly.
Adapting the existing design to create a wider or longer structure is quite straightforward: additional beams can be added to make it wider, or additional units to make the beams longer. But the maximum span length with this design is around 25m, says Spruit. "That's not a problem because the precast beams that it is intended to replace are around the same length." If intermediate supports can be accommodated, a series of spans each up to 25m long can be used to create a longer bridge. The prototype is designed to carry full highway loading and was used daily by large construction wagons for the ten months it was in place. What's more, the structure was thoroughly instrumented during its service life, and monitoring data is publicly available alongside all the details of the design, construction and dismantling of the bridge. The purpose of this is to try and create the right conditions to encourage commercial partners to pursue improvements to the prototype, or to use the data to develop other proposals.
The initial intention was to gather as much data as possible, but this idea was scaled back when it became clear that it would be too expensive, requiring separate sensors on each element of each beam. So, deflection was measured at a number of fixed points, along with joint movement, forces in the longitudinal prestressing, and temperature. A photo was taken of each vehicle as it crossed the bridge to correlate with the measurements. Limits were set so that warnings could be generated if they were exceeded, but in general the bridge behaved exactly as predicted, if anything with less deflection than had been anticipated.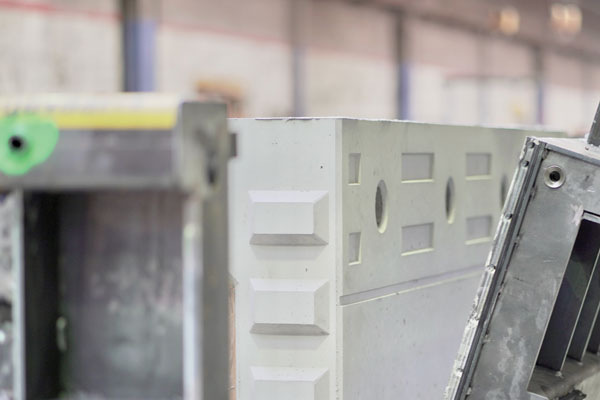 The joint detail and grouting are the most challenging part of the prototype (image: Rijkswaterstaat)
As a test case, it has been a success, Spruit confirms, and the lessons are being shared in an open learning environment to support progress in the development of circular bridges. What was unexpected was the difficulty of seeing the process through. "Although we were using common technology, the process of putting it all together and building the bridge was a technical challenge," he reflects, and warns that it is easy to underestimate the energy and time that such a project requires.
Spruit acknowledges that moving from a prototype to a commercial product is a major challenge. "If you plan to build a circular bridge design, you will need more material, and it will be more expensive," he confirms. RWS is trying to address this by including an incentive in its procurement process for bids that demonstrate circularity. "This is alongside incentives for reduced environmental impact, carbon footprint, and so on," Spruit says. The whole life cost of a circular bridge would be competitive even if it was only used for 40 or 50 years, he believes – and the potential is for such bridges to last four times as long, whether on the original site or at other locations.
During the process, the team learned that intensive collaboration between all parties is necessary if creativity is to be exploited and decisions made quickly. And while assembling the units into beams was slower than anticipated – the filling of the joints being a particularly time-intensive procedure – once they were assembled, erection of the beams took about the same time as precast alternatives.
Further work is needed into a number of technical aspects of the circular viaduct. For example, investigation into the behaviour of the shear keys is recommended, particularly in terms of collapse behaviour, and their standardisation has been proposed. Extending circularity to other elements, such as deck surfacing, parapets and lighting, is also necessary. Although the prototype works well, the report suggests that the size of the elements should be reviewed to see if they can be optimised to reduce material use even further. The report also asks what standardisation is necessary to enable the deck to reach its maximum lifespan – and indeed whether a 200-year service life can be proven n
For more about the circular viaduct project, visit www.circulairviaduct.nl (in Dutch)