Installation of the 60m-long, 150t Princes Quay Footbridge over the A63 highway was completed early. "Our crews have worked tirelessly, round the clock, since Friday night to complete this installation ahead of schedule," said client Highways England. "We think it looks pretty amazing."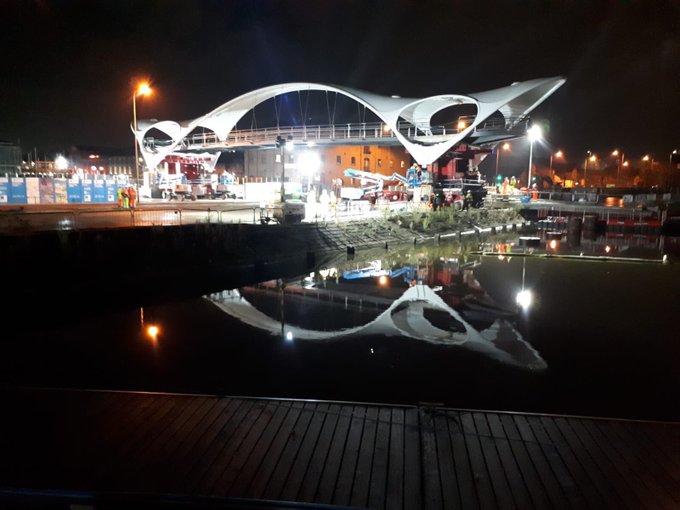 The 150t structure has been fabricated by SH Structures to a design by Matter Architecture, McDowell Benedetti and Arup. The principal contractor is Interserve.
Princes Quay Footbridge is 60m long and features a curved canopy that will provide shelter for users. SH Structures carried out the fabrication at its its facility in Sherburn-in-Elmet and then assembled the bridge close to the the site. It was then transported by self-propelled mobile trailer units to its final location across the A63.
The project has several main aims beyond providing a safe pedestrian and cyclist route to cross the A63. It is also intended to to be landmark for the city of Hull and to help to support the local economy by providing a better link between the city centre and the waterfront.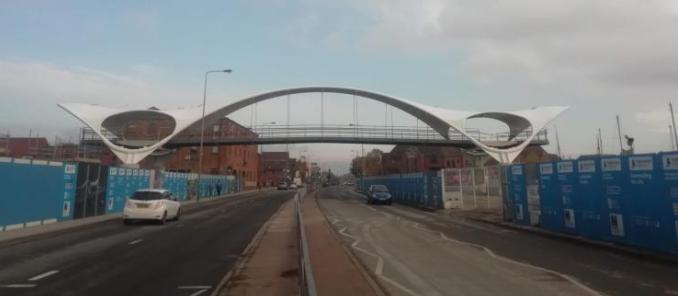 Highways England has put the overall cost of the bridge at US$29 million.
A time-lapse of the installation can be viewed here.