Hardesty & Hanover (H&H) and Roughan & O'Donovan (ROD) have announced that they are collaborating to provide movable bridge engineering design services to the team recently appointed to build the opening bridge over the River Clyde.
The 184m double cable-stayed swing bridge will carry vehicles, cyclists, and pedestrians.
The crossing is the centrepiece of the Clyde Waterfront & Renfrew Riverside (CWRR) project, which will transform the waterfront, connect communities on both sides of the river, improve access and create new connections into Scotland's manufacturing innovation district.
The design-build project is being led by contractor Graham, with Hollandia Infra, lemants, Ramboll, Amey, Hycom Engineering, and Fairfield Control Systems amongst the other members of the project team appointed in March 2021 (link opens in new tab).
The double swing bridge is 130m pivot to pivot with an asymmetric arrangement of 65m forward span and 27m back span. The steel superstructures spans are gear-driven, hydraulically powered and open at a 110° angle. The pivots feature 6.7m-diameter slewing bearings. The forward steel superstructure is supported by cable-stays anchored to steel pylons and a counterweighted back span.
Below: Visual concept designs of the new River Clyde bridge produced by Kettle Collective, in collaboration with Sweco.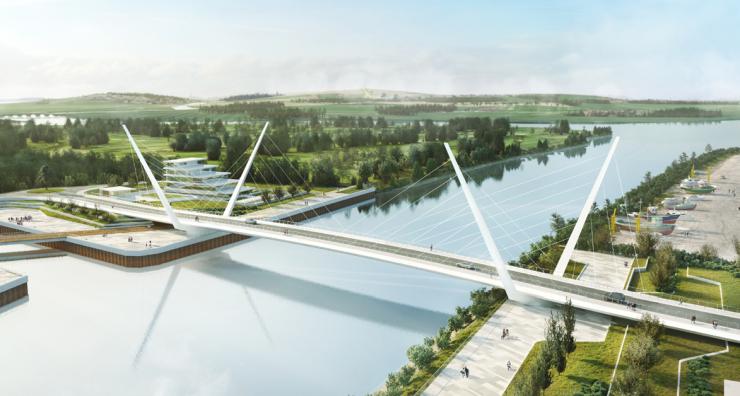 Planning consent has already been obtained. Detailed design and construction are scheduled to start this spring and take three years to complete.
Paul Skelton, H&H's principal-in-charge of the firm's international projects, said: "Our well-honed partnership with ROD is emblematic of our approach to designing complex kinetic structures. Our structural, mechanical, and electrical/controls specialists design collaboratively to ensure that the bridge and its machinery function as one. This will bring to life an elegant and unique bridge that offers pedestrians and cyclists a less-steep journey across the Clyde while also providing a significant opening for marine traffic."
ROD's Tony Dempsey added: "We have been collaborating with H&H for the past 15 years and we are delighted to be working with Paul and the team again on this our latest success. It continues our established relationship in the UK and Ireland."