The tender is for engineering services and technical oversight in relation to a bridge that will carry the Rail Baltica railway over the River Neris in Lithuania. LTA infra - the company tasked with implementing Rail Baltica in Lithuania - is carrying out the tender for the bridge, which will have a total length of 1,510m and spans of up to 150m.
The construction tender was launched in early January (link opens in new tab).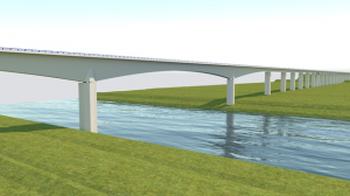 "This will be an exceptional project not just for Lithuania, but the entire region," said Karolis Sankovski, CEO at LTG Infra. "This is another opportunity to participate in the project by offering oversight for the construction works of the longest railway bridge in the Baltic States, and will not arrive any time soon. As such, we invite all companies, which are able to offer the services outlined in the tender, to participate."
The tender for technical oversight of the contracting work and engineering services will be held in two stages. During the first stage, the tender participants' compliance with technical requirements will be evaluated, and during the second stage the best offer will be selected.
The services are to be purchased on the basis of the Fidic Red Book. LTA Infra said that one of the advantages of this model is that the oversight engineer measures and evaluates the quantities of work done by the contractor; the client then makes payments based on solely work that has been completed.