NJ Transit's board of directors authorised the execution of a full funding grant agreement (FFGA) with the Federal Transit Administration (FTA) to construct the new bridge. The FFGA marks the final stage of the capital investment grant process to fund the new fixed span across the Hackensack River. The board authorisation means that the FFGA is nearly ready to be signed pending final review by the US Department of Transportation and Congress.
The current 110-year-old Portal Bridge has long been the source of congestion and there are mechanical issues with its opening span, resulting in delays for NJ Transit and Amtrak commuters.
Authorisation of the agreement will allow NJ Transit, with the assistance of Amtrak, to construct, operate and maintain the replacement bridge and about 4km of related rail infrastructure. The replacement, which is fully designed and fully permitted, will be a high-level, fixed span bridge that will allow marine traffic to pass underneath without interrupting rail traffic.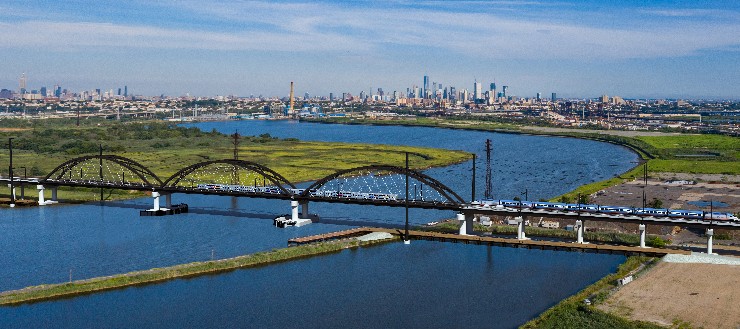 Governor Phil Murphy said: "Since taking office, one of my top priorities has been to secure funding for key infrastructure projects that will carry our commuters and our economy forward. I'm thrilled by the board's decision today to green light this agreement, which moves us one step closer to replacing this unreliable, century-old bridge that has threatened to grind the Northeast Corridor to a halt and been a source of untold stress for thousands of riders who rely on it. New Jersey has put our skin in the game with more than our fair share of funding, and I look forward to working with the Federal Transit Administration to get this shovel-ready project started."