It was 2017 when I started working for Bridges to Prosperity (B2P) in its Nicaragua programme as a Bridge Corps Fellow. I came in with three years' experience as a design engineer with minimal construction related background. My role was mainly to ensure that the parties involved in the construction of our trailbridges - the B2P construction team, the community workers, and the volunteers from our corporate partners - all worked together in peace and harmony.
I still remember the first bridge I worked on, a complex 130m-long suspension bridge that featured lateral guy ropes for wind stabilisation and which at the time was the longest suspension bridge constructed in B2P history. Sandwiched between B2P's experienced construction team and two different teams of volunteering professionals that had partnered to build this bridge, I found myself in a perfect storm of knowledge and energy. We were all living together in a farming community in Central America at the time, working 11-hour days on the bridge, and it was an experience that was at times overwhelming but at other times the most fun adventure ever. Together we managed to complete the structure on time.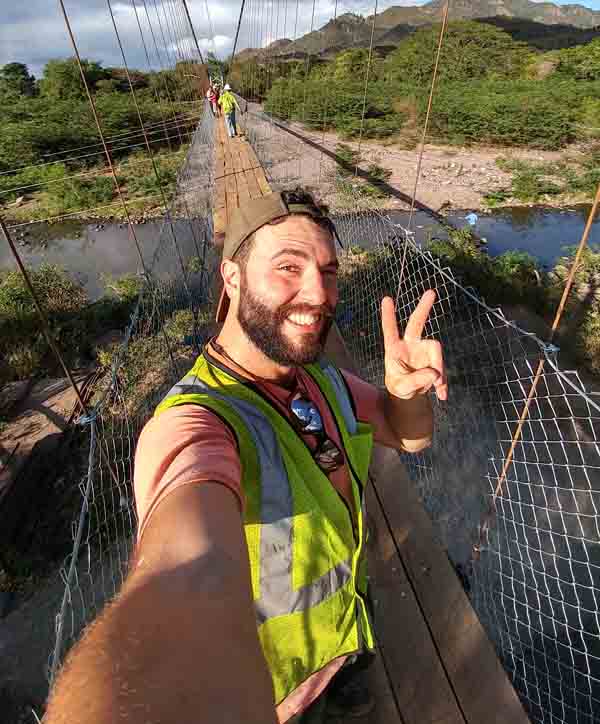 Those two weeks of hard work and rough living conditions gave me incredible memories and beautiful friendships but, more than anything, they taught me everything I know about the construction of our cable trailbridges. That same year, I repeated the same experience once every month, for nine months, and with nine different teams of volunteers (I have never been that physically fit in my entire life!). Each experience is now an essential part of my best memories, having shaped me into the person and engineer that I am today.
Every time I see the eyes of a corporate volunteer at the inauguration of one of our bridges I see that same spark, and I know that they are going to be shaped for life by the two weeks just spent far from home, immersed in a new and different culture, together with a bunch of strangers that are now, and forever will be, best friends.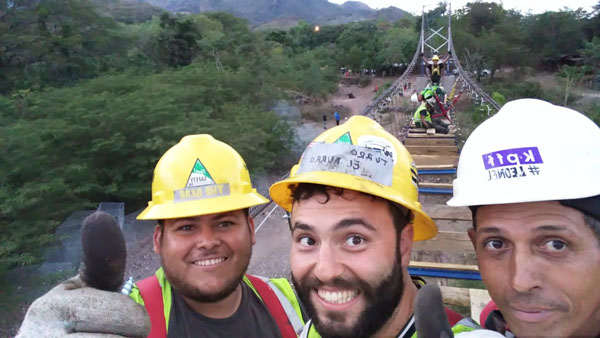 Why not try it?
Working in the engineering and construction world is fun: being involved in the design and/or in the construction of something bigger than you, that will most likely outlive you, and that will affect the lives of many, is extremely satisfying. However, while working on a main infrastructure project or even on a small housing one, as professional engineers or constructors we often find ourselves far away from the people who are impacted by it - and from their stories. That distance sometimes may result in the loss of motivation for doing what we do.
For the last ten years, B2P's corporate program has provided an answer to that need of visceral proximity, hosting volunteers from the architecture, engineering and construction industry on more than 130 bridge builds. We have directly connected these volunteers with 400,000+ people who now have reliable year-round access to essential services like healthcare, education and economic opportunities, all due to the work and the support of the companies who sponsored their engagement.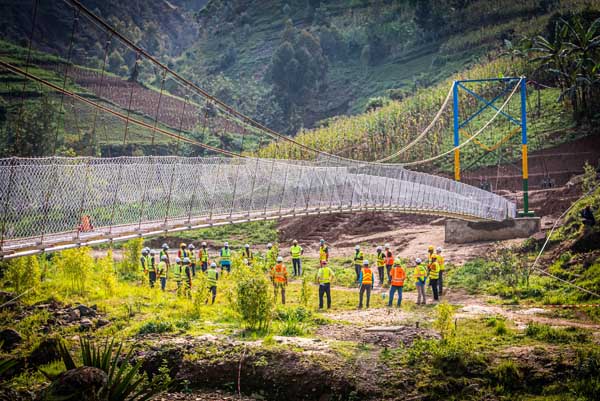 During the typical two-week trip, both 'green' and experienced professionals have the opportunity to live the same incredibly complex set of experiences as I did in Nicaragua. This intense hands-on reality gives experienced constructors the chance to mentor our construction teams as well as the community workers. Engineers and architects can learn and practice basic construction skills (perhaps for the first time) while providing feedback that improves the specific design details of our bridges. One of the most rewarding and authentic ways of getting to know a different culture has to be traveling to East Africa and building a bridge hand-in-hand with the ones who live there. And of course, being able to share with colleagues the hardship of living in a rural community for ten days or more, far and away from the many luxuries and conveniences that we often take for granted, is a unique and powerful way of creating lifelong personal and professional bonds.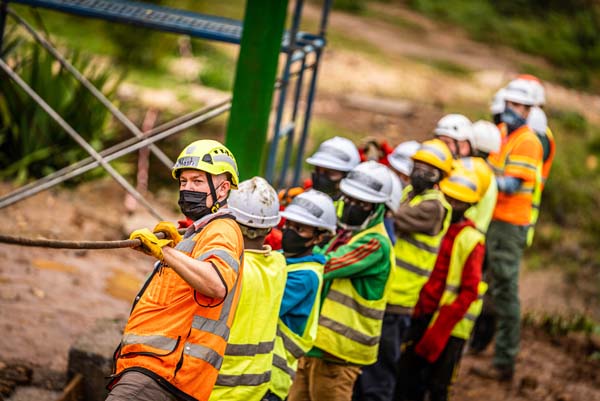 However, in my opinion the most fulfilling part of it all is the deep connection forged not only with the piece of infrastructure itself, but with the community workers you build it with. They are the people who are going to use the bridge you built, and it is their lives that will be positively impacted by it for the decades to come.
In testament of this, the majority of our volunteers always say that the best memory of their entire trip is bridge inauguration, the day when the entire community celebrates as the bridge is crossed for the first time, when happiness and tears of joy spread through the valley with astonishing energy.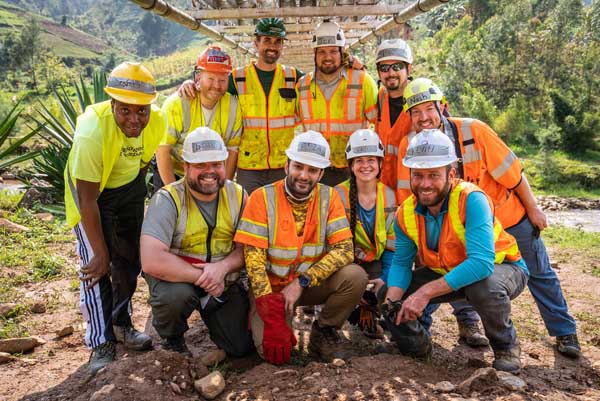 What are the benefits for sponsor companies?
It is not just volunteers that are gaining something from this opportunity. B2P benefits from the donation of critical financial and in-kind resources, including the engagement of our partners' talented workforce, while our corporate partners receive a tailored set of benefits that meet their employee engagement and global citizenry goals, while advancing their company's core values and brand in the marketplace.
Leadership and team-building through a shared vision: partnering with B2P offers our partners an opportunity to unite their workforce around a common, meaningful, tangible goal.
Corporate social responsibility: partnering with B2P enhances our partners' corporate social responsibility programme in meeting the UN's Sustainable Development Goals to end poverty, promote prosperity for all, and protect the planet.
Business development: our projects provide a unique opportunity to work with other companies in the architecture/engineering/construction industry by creating a network that shares the same values and is willing to work together towards a better future.
Recruitment and staff retainment: a culture of giving back inspires workers' passions and increases engagement. It can also help attract potential employees and retain top talent.
Powerful brand marketing: it is difficult to imagine messages more genuinely felt than those that arise when different cultures meet amidst the bright green valleys of remote East Africa and together work towards a common goal.
B2P - Join the Corporate Program from Bridges to Prosperity on Vimeo.
Join us
After two years of international travel restrictions our corporate partners were ready to jump back on a plane to build bridges with us in East Africa. Since February 2022, more than 100 volunteers have travelled to our programmes in Rwanda and Uganda to build bridges, and many more are set to travel in the coming months. Get in touch today to find out how you can join the B2P corporate family and book your travel spot for 2023!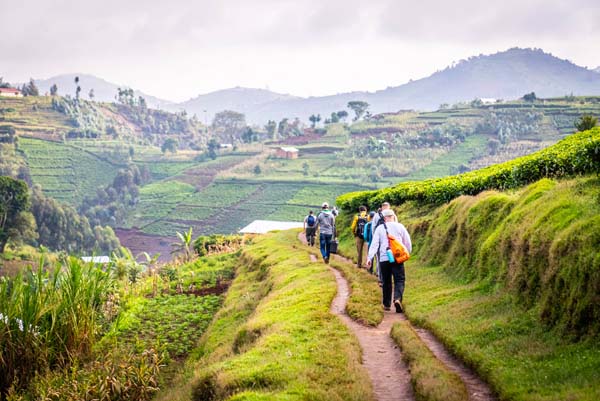 If you would like to learn more about Bridges to Prosperity and follow our work in East Africa and beyond, here are some useful links:
Facebook: https://www.facebook.com/BridgestoProsperity
Instagram: https://www.instagram.com/bridgestoprosperity/
Twitter: https://twitter.com/B2P
LinkedIn: https://www.linkedin.com/company/bridges-to-prosperity/
Vimeo: https://vimeo.com/bridgestoprosperity
If you would like more details on how you and your company can join us in East Africa and participate directly in the construction of a trail bridge, please visit: https://www.bridgestoprosperity.org/corporate/ or contact me directly on nicolaturrini@bridgestoprosperity.org.
See you with the next blog post in 2022!
Cheers,
Nico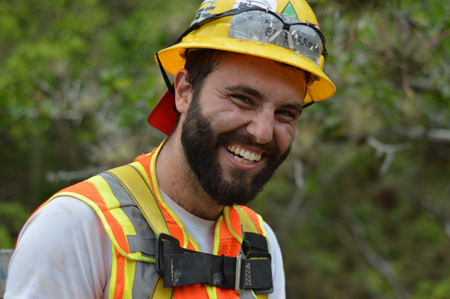 As a structural engineer, Nico has always been interested in bridges. After his studies in Modena (Italy), his engineering career began in Madrid with FHECOR Ingenieros Consultores and continued in Nicaragua, Scotland, and Rwanda with B2P. He has lived in Kigali (Rwanda) since 2018, first in the role of engineering manager and now as manager of global corporate partnerships. In his free time, he likes playing music, taking photographs, playing tennis, and studying French.
B2P blog posts on bridgeweb.com can be found here (opens in new window).