The bridge was badly damaged by construction barges that became unsecured when Hurricane Sally hit the USA and five spans will need to be completely replaced.
The estimate of the timescale follows inspection and assessment by FDOT's statewide team of bridge experts (link opens in new tab).
A survey of the piers and topside inspections have been completed along with checks on most of the underwater footings. Demolition of the damaged areas is proceeding with a focus on two of the spans to allow for underwater inspection.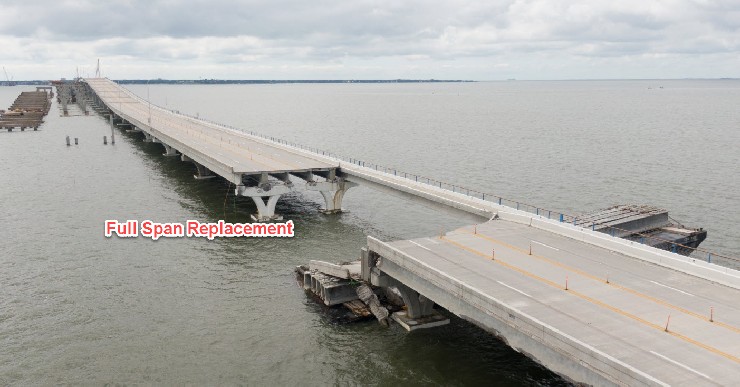 The damage happened when Skanska's construction barges became unsecured during the hurricane. Skanska has been on site since 2016 building a replacement for the bridge and is working with FDOT on the repairs to the existing structure.
FDOT said that the contractor has ordered two additional cranes to replace cranes that were damaged or lost to assist in the process. Two additional subcontractors are also on site to increase resources with additional equipment and 40 additional personnel to expedite demolition.
Three of the Skanska's barges remain on or under the structure and the removal of those barges will have to be done with great caution, said FDOT. It said that the contractor has prioritised the removal of the barges and will work closely with FDOT to ensure the least amount of additional damage possible to the bridge in this effort.
The design is under way for the permanent repairs and reestablishment of four lanes of traffic on the bridge, with a focus on substructure repairs.
FDOT is assessing the final total number of the spans and piers that will ultimately need to be replaced. The contractor has already fabricated 25 beams and the piers needed to begin repairs. The number of spans requiring full replacement remains at five and FDOT has identified an additional two that will require partial replacement.