The glass and steel bridge will be assembled in the centre lanes of the adjacent road and lifted into place to connect the hospital to its new J Wing.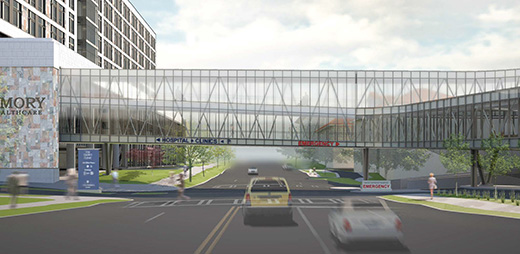 Once the new crossing is operational, the current pedestrian bridge will be torn down.
The J Wing will feature nine levels, including 210 patient beds, patient care units and diagnostic and treatment spaces. The new bridge will connect to the main hospital on both the second and third floors.
The steel supporting columns will be delivered next weekend. On-site assembly as needed as the 68t, 40m-span bridge cannot be moved very far once built. It will be assembled in the three centre lanes of the road during the week beginning 18 July before being raised into place in a weekend operation starting on 22 July.