Modjeski and Masters will undertake two bridge rehabilitation projects, one detailed inspection and 'as-needed' inspections of complex bridges for the Michigan Department of Transportation as well as inspections of movable bridges in Wayne County.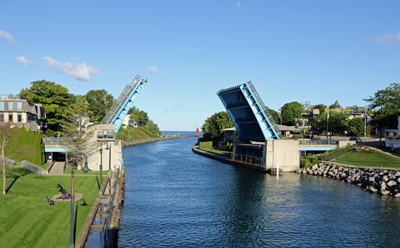 US 31-Island Lake Outlet Bridge (Shutterstock)
On the 27m-long US 31-Island Lake Outlet Bridge, a double-leaf bascule structure that crosses Island Lake Outlet in Charlevoix, the company will act as prime consultant and provide structural repairs to deficiencies in rolling lift girders as well as replacement of submarine cables.
On the 211m-long, four-leaf Grand Haven Bascule Bridge, a critical link in Ottawa County and the only bridge spanning the navigable waterway of the Grand River, Modjeski and Masters will undertake electrical, mechanical and structural rehabilitation works.
Under a third contract with Michigan DOT, a detailed inspection will be carried out on Detroit's Bagley Street footbridge, the state's first cable-stayed crossing.
The fourth MDOT project will see the company undertake routine rope-access bridge safety inspections on up to 88 complex structures throughout Michigan, in accordance with the National Bridge Safety Inspection Standards.
In Wayne County, Modjeski and Masters has also been awarded a contract to conduct inspections on movable bridges. Under the scope of the work the company will develop and document inspection procedures for the movable bridges, which include the Wayne County swing bridge and the West Jefferson Avenue-Rouge River pony truss bascule bridge.