The Palmerah Tidal Bridge project has been awarded to Dutch company Tidal Bridge, a joint venture of Strukton International and DEC.
The first phase of the project has a contract value up to US$200 million and will be rolled out in two years. It consists of the construction of the 800m Palmerah Bridge at Larantuka Strait, East Flores, and a tidal energy power plant with an installed capacity of 18MW to 23MW, providing energy for more than 100,000 people.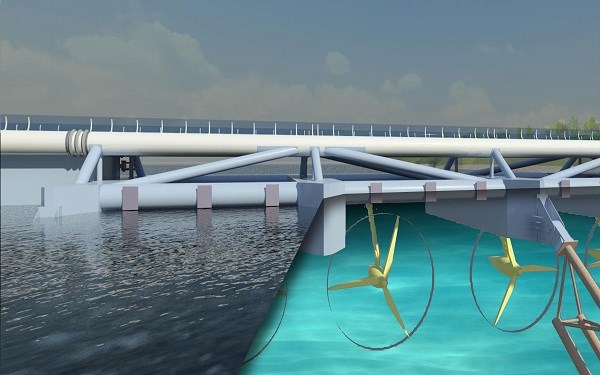 After the first phase, the project will be followed by extension and completion of the power plants to an installed capacity of 90MW to 115MW, to serve more than half a million people. The total project duration is four years and the contract value amounts to up to US$550 million.
The aim is for the project to contribute to the development of the eastern part of Indonesia and improve the infrastructure connecting the islands. In addition, it is expected to have direct impact on fishery and agro-culture in the area, stimulate tourism and improve the access to education and health care on the longer term. The water flows in the planned location, Larantuka Strait, are seen as highly suitable for the generation of tidal energy, making it possible for local people to benefit from the bridge in multiple ways.
"We are proud to use cutting-edge technology in realising this bridge with the largest tidal power plant in the world and be able to increase the living standard of the people with this project," said Tidal Bridge CEO Eric van den Eijnden.
The start of the project follows the signing of the head of agreement in April 2016. It is the first project being carried out as part of a Dutch - Indonesian cooperation agreement in the area of water works.
The floating bridge and tidal power plants are being designed and built by Tidal Bridge, in cooperation with international and local partners. The project is endorsed by the Dutch Ministry of Infrastructure & Environment, the Dutch Embassy in Jakarta, the Indonesian province NTT, the Ministry of Energy, Public Works & Marine, and the Indonesian Embassy in The Hague. The first design and construct phase is due for completion by the end of 2019.
"The Indonesian government was pleasantly surprised by the inventiveness of the partners, which made sure we could very quickly move to the implementations phase," said Tidal Bridge Indonesia CEO Latif Gau.