Cumbria County Council, working with principal contractor Eric Wright Civil Engineering and an extensive project team, oversaw the installation of the £5m structure, which was lifted into place using one of the largest mobile cranes in the country.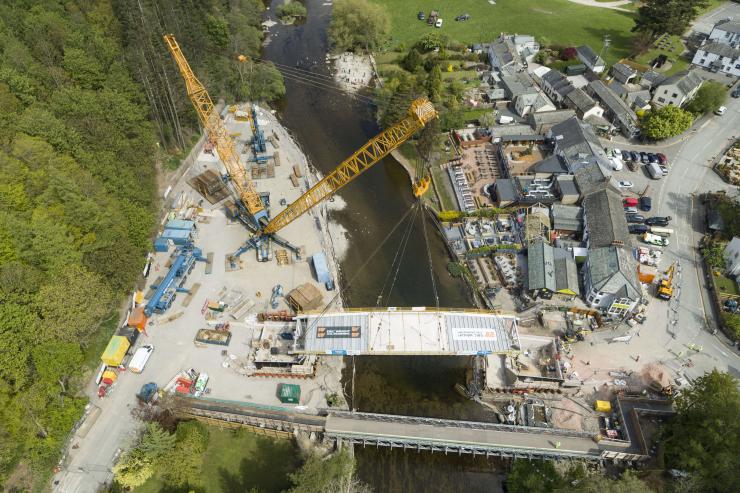 The concept for the new three-layer stainless steel and concrete composite structure was developed by Knight Architects and designed by GHD, with the steelwork fabricated by WEC Group. The steelwork was fabricated in four separate sections before being transported to site earlier in the year. The bridge was then pieced together before a concrete arch was also cast onto it, then lifted into place as one complete structure.
The project restarted at the end of March after guidance from the government with regard to site health and safety under Covid-19 measures.
The new crossing of the River Eamont at Pooley Bridge believed to be the country's first stainless steel road bridge. Once completed later this summer, the bridge will reconnect the local community for the first time since the town's historic bridge was washed away by Storm Desmond in 2015. The original bridge, which was built in 1764, was one of more than 700 bridges in Cumbria to be damaged by the storm, which was said to be a 1-in-700-year event.
Diane Bourne, managing director of Eric Wright Civil Engineering, said: "It was important that the design of the new bridge struck a balance between being future-proofed for flood resilience and would meet the needs and wishes of the local people and visitors to this beautiful part of the country. That called for a slender bridge which would complement the local scenery and would also be resilient to any future episodes of extreme flooding. We are delighted that the local community will very soon be connected again and thank them for all of their support and patience, especially over the very challenging conditions in recent weeks."
Councillor Keith Little, Cumbria County Council cabinet member for highways and transport, said: "This is a significant milestone in reconnecting the local community and it is great to see the impressive new bridge structure lifted into place at Pooley Bridge. This improved connectivity will not only be welcomed by local residents, but will be a vital component in re-starting the local economy as we come out of the lock-down period.
"We had hoped to have a celebration event to mark the occasion but under the social distancing restrictions the lift took place without public access but once these measures are relaxed we hope people will again visit this beautiful part of Cumbria and see the new bridge for themselves."
The project team is made up of: Eric Wright Civil Engineering, GHD, WEC Group, R Betts, Sarens, Eden Stonework, PBA Ecology, Waitings, Bill Boley, Knight Architects and Cumbria County Council.