The majority of the heavy lifting for the dismantling is being carried out by the shear-leg barge crane originally called the Left Coast Lifter and now dubbed the I Lift NY super crane. This is the first time the crane, used to erect both the San Francisco-Oakland Bay Bridge in California and Governor Mario M Cuomo Bridge, will be used to deconstruct a bridge.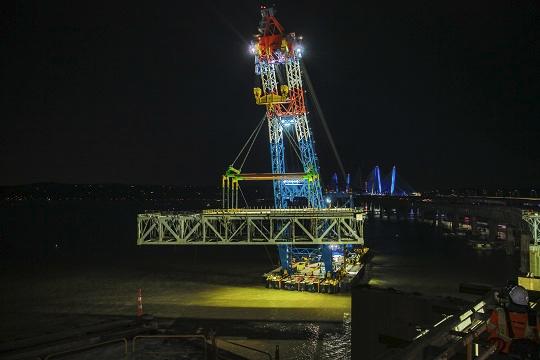 The work is being carried out by the Fluor-led joint venture, Tappan Zee Constructors, which also includes American Bridge, Granite and Traylor Brothers.
The bridge was taken out of service last month following the completion of its replacement's westbound structure, which opened to traffic in August. The US$3.98 billion Governor Mario M Cuomo Bridge sits adjacent to the old crossing; its eastbound structure is scheduled to open to traffic next year.
The crane began by helping remove a 71m steel section and it will remove 20 similar sections, the largest of which weighs more than 1,300t. It will also be used to disassemble large sections of concrete and substructure.
Many of the materials will be recycled. More than 130 deck panel units, each approximately 4m wide by 15m long, will be provided to nearly a dozen state and local municipalities to be repurposed for other bridges and roadways across New York.